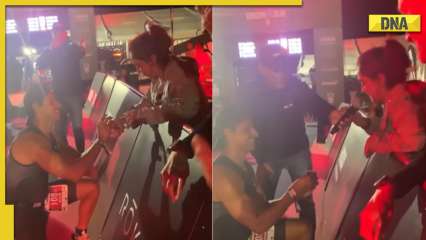 Aamir Khan's daughter Ira Khan is finally engaged to boyfriend Nupur Shikhare. Yes! On Thursday night, Ira shared a video of Nupur proposing to her in the most romantic of ways. He took out his engagement ring, got on his knees and proposed to Ira Khan at a popular Iron Man Italy show.
The video shows Nupur kissing Ira before proposing to her with an engagement ring. Ira shared the video, writing: "Popeye: She said yes. Ira: Heh, I said yes." Actress Fatima Sana Shaikh also commented on the video, writing, "This is the sweetest thing I've ever seen. Uf. @nupur_shikhare so filmy uff." Rhea Chakraborty commented, "Congratulations to you," wrote Rohman Shawl, "Congratulations you two."
Watch video:



Earlier, Ira Khan, the daughter of Aamir Khan, wrote a message about her anxiety attacks. She also added that chatting with her boyfriend Nupur Shikhare and breathing "helped not let it come to an attack" on Instagram. She also shared a selfie of herself taking a shower after an anxiety attack.
She wrote: 'I get anxiety attacks. I've had fear. And I used to be overwhelmed. And have crying spells. But I've never had anxiety attacks. It is the difference between panic and panic attacks. Anxiety vs. Anxiety Attacks. As far as I understand (anxiety attacks), they have physiological symptoms. Palpitations, shortness of breath. In addition, cry. And it builds up. Slowly. Feels like impending doom. This is how mine feels. I don't know what a panic attack is like.
It's really a bad feeling. My therapist said if it becomes regular (context, I had 1 or 2 in 2 months versus now almost every day), I should tell my doctor/psychiatrist. Just in case someone needs words to describe how they feel and this might be of some help. It feels pretty helpless. Because I really want to go to sleep (for me that usually happens at night) but I can't because it doesn't stop. I try to identify my fears, talk myself down. But once it gets to you, I haven't found a way to stop it. You have to drive out a bit. so far. That's what I came up with. But while it's building, talking to Popeye and breathing kept it from coming to an attack. At least for a few hours. It also depends on whether I am later stressed again by another stimulus. Life is full of variables. When you try to be mindful, remember to consider all of them. Hang in there Ps This is me after a long shower after a seizure. Showers are a beautiful thing. More on that later."
.