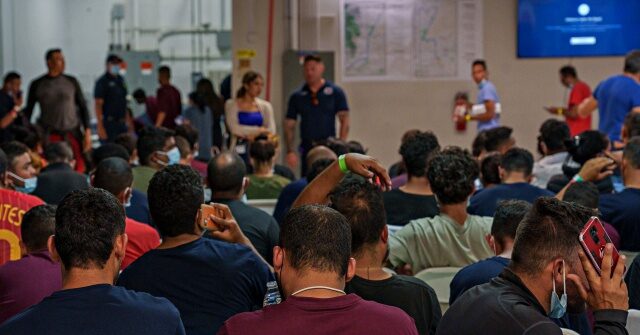 The American Civil Liberties Union (ACLU) is urging President Joe Biden's administration to end nearly all detention of illegal aliens, a plan that would free 30,000 detainees to US cities and towns.
On the occasion of the 20th anniversary of the Department of Homeland Security (DHS), the left-leaning ACLU has issued a policy letter asking the Biden administration to end the 287(g) program that undermines Immigration and Customs Enforcement (ICE) agency to work directly with towns and cities to quickly extradite criminal illegal aliens.
"Instead of providing proven law enforcement benefits, these ICE law enforcement cooperation programs have resulted in racial profiling: local police are encouraged to stop, arrest, and press charges against people who 'look' like immigrants as immigrants. purpose of helping ICE deport them," the ACLU briefing states.
Biden's DHS Secretary Alejandro Mayorkas has already suggested that the administration is working to scrap the 287(g) program.
In addition, the ACLU is urging Biden to eliminate most of the U.S. immigrant detention centers contracted by ICE. Such a plan would release about 30,000 illegal aliens in US cities and towns.
Nearly 9,000 of the detained illegal aliens are convicted criminals or criminal charges have been brought against them.
"With coffers running low, ICE should terminate private prison contracts, close detention centers and support community-based alternatives to detention that allow immigrants to navigate the immigration system and honestly defend their case for protection from deportation" the ACLU briefing said. is reading.
The Biden administration has already drastically reduced immigration detention. While there are currently about 30,000 illegal aliens in ICE detention, that number is much lower than the nearly 56,000 illegal aliens held under the Trump administration in August 2019.
John Binder is a reporter for Breitbart News. Email him at [email protected] Follow him on Twitter here.