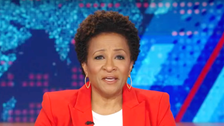 The "Daily Show" guest host on Tuesday joined the serially dishonest legislator's comedic pile-up, pointing to one of the latest revelations in the mountain of fabrications to come to light since his election in November.
"It's been a bad week for George Santos," said Sykes. "Or, as he calls it, a good week."
When asked by reporters at a New York airport this weekend, Santos insisted he had never been a drag queen, but seemed to confirm that he had dressed up as one.
"I was young and had fun at a festival. Sue me because I have a life," he said.
"Sue me for having a life? No, man, we should sue you for lying,' she said. "You know, but the drag queen part is pretty cool. I like Kitara. Kitara, you stay. George Santos? Sasha gone."
Watch below on "The Daily Show."
.