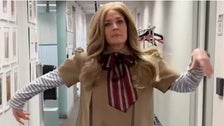 Drew Barrymore just recreated one of the most viral horror moments of 2022 – and it's every bit as weird as you'd expect.
In a clip from "The Drew Barrymore Show," the host dressed up as the murderous prepubescent humanoid doll from the horror film "M3GAN" ahead of Allison Williams' appearance on Wednesday's episode of her daytime talk show.
Williams stars as Gemma, the robotics engineer who created "Model 3 Generative," or M3GAN, a ruthless artificial intelligence prototype in the creepy movie.
Donning the character's "killer" wardrobe—a shirt dress and a kitty scarf—Barrymore does her best to mimic the lifeless killer, even adding a blonde wig and the doll's blue contacts to carry.
Recreate the creepy doll viral dance backstage, the 47-year-old busts out a move with a twist, body roll, and shimmy à la M3GAN style — minus the unhinged twerking and cartwheels. See the video below.
After the film's release, M3GAN's TikTok-esque dance has since blown up on social media, with #M3GANDANCE garnering over 312 million views.
The sci-fi horror film follows an AI robot trained to act as a guardian for a child, but malfunctions and turns into a life-threatening machine for all but the child she is supposed to protect.
The Chiller stars Williams, Violet McGraw, Ronny Chieng, Brian Jordan Alvarez, Jen Van Epps, Lori Dungey, Stephane Garneau-Monten and Jenna Davis.
Last week, The Hollywood Reporter said an "M3GAN" sequel, "M3GAN 2.0", is in the works. According to THR, the film is scheduled to be released in theaters on January 17, 2025.
"M3GAN" is in theaters now.
.