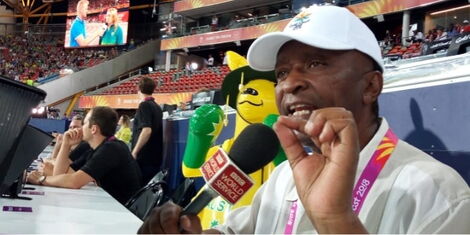 The celebrated sports journalist John Nene who worked at KTN, Kenya Times, Daily Nation and TSTIME set up Kenya's first-ever athletics podcast to document the sport's history from the 1950s.
The Ministry of Sports, Culture and Heritage in partnership with Athletics Kenya is funding the project, mwanariadha podcast, which according to Nene will revolutionize the sport in the country.
The first episode featured one of Kenya's pioneer athletes from Kisii, Nyandika Maiyoro, and the formation of Athletics Kenya in the 1950s, then known as Kenya Amateur Athletics Association (KAAA).
Nene will tell the stories of Kenyan legends who have dominated the track events in the local and international scene in the upcoming episodes.
Former TSTIME sports producer John Nene at the 2018 Commonwealth Games in Gold Coast, Australia.
John Nene
In a statement dated Friday, September 22, the journalist stated that the podcast would help TSTIME learn the untold stories of many heroes and heroines who have represented the country.
"Mwanariadha Podcast will feature interviews with Kenyan athletic legends and packages, as well as the participation of Kenyan athletes in the Olympics, Commonwealth Games and World Championships, including other major competitions and notable activities in Kenya's athletic history.
"My journey begins with the birth of Athletics Kenya, then known as Kenya Amateur Athletics Association (KAAA) in 1951 and Kenya's first entry to the Commonwealth Games in 1954 in Vancouver, Canada starring Nyandika Maiyoro, one of the pioneer athletes," he declared.
"In addition to documenting Kenya's athletic history from the 1950s, Mwanariadha Podcast is dedicated to Kenyan athletes who have brought glory to the country in various international competitions. The knowledge of broadcast journalism that I gained at the TSTIME served me well in setting up the Podcast to be produced by my company, Nenez Media Services,he claimed.
Some of the material and interviews he kept during his work as a sports journalist will come in handy in this project.
Furthermore, Nene thanked officials of the Ministry of Sports for trusting him to work on the project, even though he stated that he would take up other sports in due course.
"Thank you to CS for Sports, Culture and Heritage Amina Mohamed, PS Joe Okudo and Kip Keino Classic Meet Director, Barnabas Korir, for your support in setting up Mwanariadha Podcast.
"Curses to Swaleh Abubakar Ahmed, the technical director of Crablinks Interactive Ltd from Mombasa for your tremendous contribution to the production of the podcast," he stated.
In July 2021, Nene was appointed Director of Public Relations and Communications for the World Frica Boxing Association (WABA).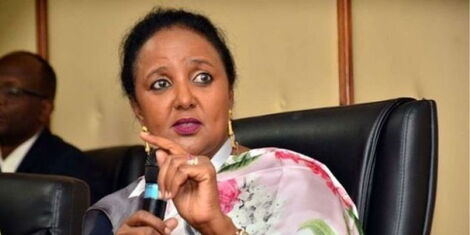 Sports cabinet secretary Amina Mohamed during a recent press conference
File