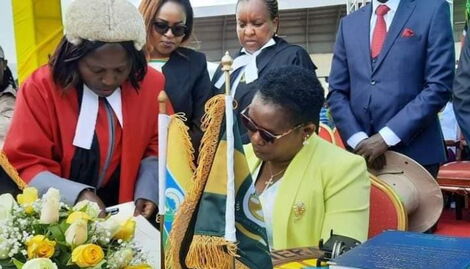 The governor of Meru, Kawira Mwangaza, has refuted claims that her husband – Murega Baichu – was awarded Ksh 1.2 million for performing at her swearing-in ceremony on Thursday, August 25.
Reports of the payment went viral on Saturday morning, August 27, raising questions about the procedure used to award the contract and approve the payments.
However, Mwangaza rejected the claims, adding that her husband did not receive any form of payment for his performance during the swearing-in ceremony.
Meru Governor Kawira Mwangaza signs official documents after being sworn in as Meru Governor at Kinoru Stadium on August 25, 2022
TSTIME.co.ke
Mwangaza further claimed that she did not participate in any way in the arrangements of the swearing-in.
"I didn't take office until after I was sworn in, so there's no way I've been able to initiate or approve a payment," she stated.
"The inauguration ceremony was budgeted by the Transitional Committee, chaired by the outgoing Meru County Secretary and Meru County Commissioner who represented the national government."
"My husband, Murega Baichu, was not contracted to perform and he was not given a single shilling," Mwangaza confirmed.
Mwangaza's husband, Baichu, is a musician from Meru and played an important role in her campaigns. He was one of the musicians performing with his iconic guitar during the ceremony.
Under the Assumption to the Office of the Governor Act of 2019, the task of organizing the transition of power from an outgoing governor to an incoming governor is performed by the Assumption of the Office of Governor Committee.
The 13-member committee is charged with coordinating and arranging all activities in preparation for the swearing in.
By law, an elected governor is deemed to have assumed power upon receipt of the instruments of power.
Kawira becomes Meru's third governor after ousting former governor and veteran politician Kiraitu Murungi.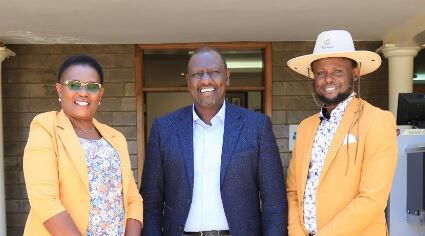 From left to right: Governor-elect of Meru Kawira Mwangaza, President-elect William Ruto, and Kawira's husband Murega Baichu.
Twitter
William Ruto