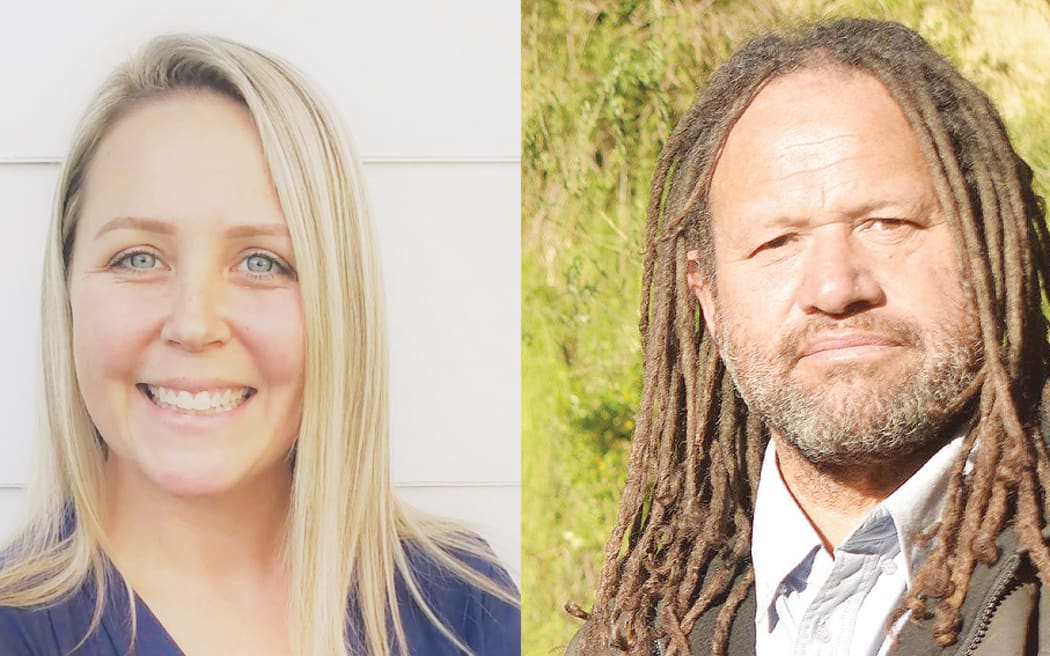 A Gisborne mayoral candidate stands by a controversial social media photo of him in a hazmat suit with a swastika on the front.
Darin Brown is one of four mayoral candidates in Tairāwhiti this election, and is basing his campaign on returning control to local government.
Since announcing his candidacy, a photo has surfaced showing him wearing overalls with a swastika and genitalia drawn on them, along with the words "choose freedom over fear."
He indicated that the costume was an attempt to raise awareness of what he believed to be government control over Covid-19 mandates.
The photo was posted by Darin Brown's wife, Jen Brown – who is running for city council under the Tairāwhiti General Ward – with the caption "that's how you go to the grocery store."
Darin Brown told Local Democracy Reporting that the photo was taken around the time of the first lockdown and that he did indeed go to the supermarket with the outfit on.
"I own it man…I'm not a Nazi or white supremacist. I'm not an anti-vaxxer. Just like them [the government] was about forcing those vaccines on humans, the first time in New Zealand history," Brown said.
"I got a lot of snails because I support my wife. She stands up for those who have lost their jobs."
Brown's other posts included saying he wanted to knock down 5G towers by January 2020, and in October 2018 he wrote expletives about people on the highway firing fireworks that scared his horses.
Brown's posts were part of a Dropbox set up by former councilor Manu Caddy, which encouraged members of the public to share questionable content they dug up.
Brown's wife, Jen Brown, also features a lot in the posts that have been put together.
She told Local Democracy Reporting that she didn't like the term anti-vax, but was pro-choice.
However, in one post, Brown compared her "brick of luck" to the Covid-19 vaccine in terms of its effectiveness in fighting the virus, criticizing Deputy Mayor Josh Wharehinga for his stance on his opposition to the Wellington protest, that she attended.
She also called for a halt to the roll-out of vaccines for children and posted about a trans swimmer being critical of her fight against "biological women".
Brown said she based her campaign on returning control to local government — just like her husband.
"I am by no means right-wing or racist. My husband is Māori," she said.
"I just took the test for where I sit [politically] And I'm a left-wing liberal."
She confirmed that she was a member of Voices For Freedom, a group that has encouraged its followers to run for councils to push its agenda.
Ben Florance – another candidate in the general hall – also attended the Wellington protest.
He said he didn't originally plan to make the trip to the capital, but felt compelled.
"It was after I saw all the violence happen and I was like 'oh god I have to go there and try it'
whatever I can to help, maybe make a little peace'."
At a candidate induction event in Te Araroa on Wednesday, Florance introduced herself as a small business owner with a background in the military and the Salvation Army.
On social media, he has shared content accusing the prime minister of having total control over the media.
He also shared a post titled "is Captain Cook our hero?" who claimed that without him there would be no New Zealand.
Florance declined to comment on whether Cook was his hero, but asked Local Democracy Reporting if they'd read a history book.
Cook is a polarizing figure. Nine Māori were shot and killed or wounded during his October 1769 visit to Tūranganui-a-Kiwa.
Leighton Packer, who was also under the general ward, attended the protest in Wellington which she described as "peaceful".
In social media posts, she accused the media of being "fake" and shared a post calling gay rights protesters "clowns".
Packer said the group protested hers and felt some of their actions on the day were inappropriate for children to watch.
Peter Jones, a general district candidate, shared on social media that there was "not a single party to the government speaking for people who think Covid is a scam".
He declined to comment further.
Municipal elections are scheduled for October 8.
Local Democracy Reporting is Public Interest Journalism funded by NZ On Air
.