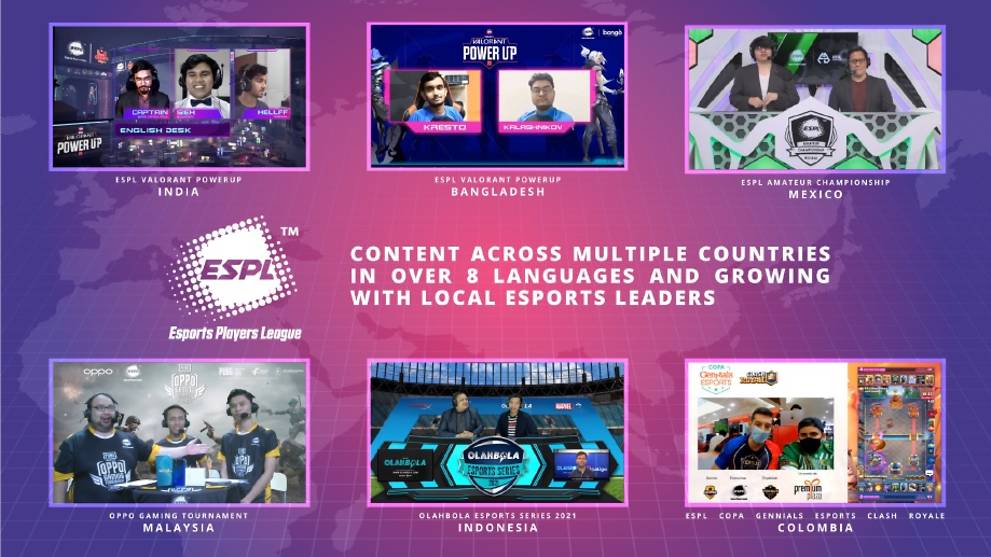 SINGAPORE: While many industries have been battered by the COVID-19 pandemic, e-sports is one of the few to flourish as people seek various entertainment options while spending more time at home.
E-sports Players League (ESPL), a Singapore-based esports tournament platform, said it has experienced "very rapid" growth in user numbers since its launch early last year. This boosted his confidence to grow from four to 16 markets in Asia, Europe and America during the same period.
"User activities have continued to grow," said chairman and co-founder Lau Kin Wai. "At the height of April through July, we saw the number of users double every month."
The user base in Singapore has jumped 120% since day one, he added, while the fastest growing markets, like India and Bangladesh, have grown 300%. .
ESPL describes itself as an esports tournament and media platform that focuses on amateurs, or grassroots players as it calls them. This segment of the gaming community is currently "very underserved" as most competitions are geared toward esports professionals, Lau told TSTIME.
"Like any other sport, there is a group of people who don't play this sport for a living but take it seriously. They want to improve their game and know how they are doing against friends or other people. This is where we come in.
All over the world, there are other esports platforms that serve everyday gamers, such as Super League Gaming, listed in the United States, which calls itself "the experience platform of amateur electronic sports ". Founded in 2015, it organizes tournaments and community development events.
ESPL said it is the only such platform in Singapore. Last year, it hosted 312 online tournaments, serving over half a million amateur players around the world.
READ: From Live Streaming to Esports: Watch the Rise of Female Players in Singapore

Esports has already gained momentum in recent years. According to games and esports research firm Newzoo, the global industry is expected to record more than $ 1 billion in revenue for 2021, up 14% from last year.
And the pandemic has given the industry a boost. In addition to looking for entertainment options, people are also looking to stay in touch with others.
"There's also the social interaction factor," Lau said. "We find that a lot of people play in part because they want to interact with friends or other people. Especially if there is competition, you mobilize your friends towards a common goal and it really is a social interaction.
Still as a new business, ESPL's exponential growth in the midst of a global crisis came as a surprise.
Mr. Lau said, "Like everyone else, we weren't sure how this would impact everything we do. We held back all the ads and hoped to fall back, but our user base has grown steadily.
"It wasn't until around May or June that we realized that the pandemic is the root of everything digital and that we would be one of those that will continue to grow."
READ: Comment: Has Razer Found A New Way To Achieve Profitability?

Besides esports enthusiasts, ESPL said it has also caught the attention of other companies keen on partnerships or advertising on its platform.
Not just the usual brands related to games and tech, Mr Lau said there has been "fast growing" demand from consumer brands, ranging from energy drinks, shampoo to deodorants.
"With digital consumer behavior accelerating from a good five years, every brand in the world is focusing more on online consumer engagement. Our users are generally between 21 and 35 years old and they are the prime targets of most of these mainstream brands, "he explained.
MORE THAN A PANDEMIC TREND
The ESPL plans to host more than 700 tournaments this year, more than double what it had in 2020. It believes it can continue to grow, even beyond the pandemic.
"This doesn't mean that once the pandemic is over, people will go non-digital. Behavior has changed, "Mr. Lau said.
"Likewise with our platform, if you know that this is something that allows you to interact with friends on a Friday night, it will remain an option even when the time is right for us to be able to spend more time at the outside."
READ: foreign language? Shoutcasters like Daryl Lim are the voices of esports tournaments

The platform also aims to offer a wide variety of games beyond the classic first-person shooter titles.
In addition, it will soon allow players on its platform to organize their own tournaments for free. This is in response to requests it has received from users, Lau said.
ESPL also relies on collaborations with new investors.
It recently raised nearly S $ 3 million, marking its biggest funding round which included "strategic investors" such as Genting Ventures, the venture capital arm of Genting Group and Warner Music Asia.
With the latter, the online esports platform envisions "cross initiatives between music and games," Lau said.
"A lot of gamers are hooked up to music when they play and that adrenaline rush is definitely enhanced by great music," he added, noting that the record company will become ESPL's exclusive music partner.
The platform could also start hosting virtual concerts in its games, Lau said, referring to an emerging trend in other parts of the world.
"We could potentially do a lot with Warner Music to create new media between music and games," he said.
MARK THIS: Our Comprehensive Coverage of the COVID-19 Pandemic and Its Developments
Download our app or subscribe to our Telegram channel for the latest updates on the coronavirus outbreak: https://TSTIME.asia/telegram
.