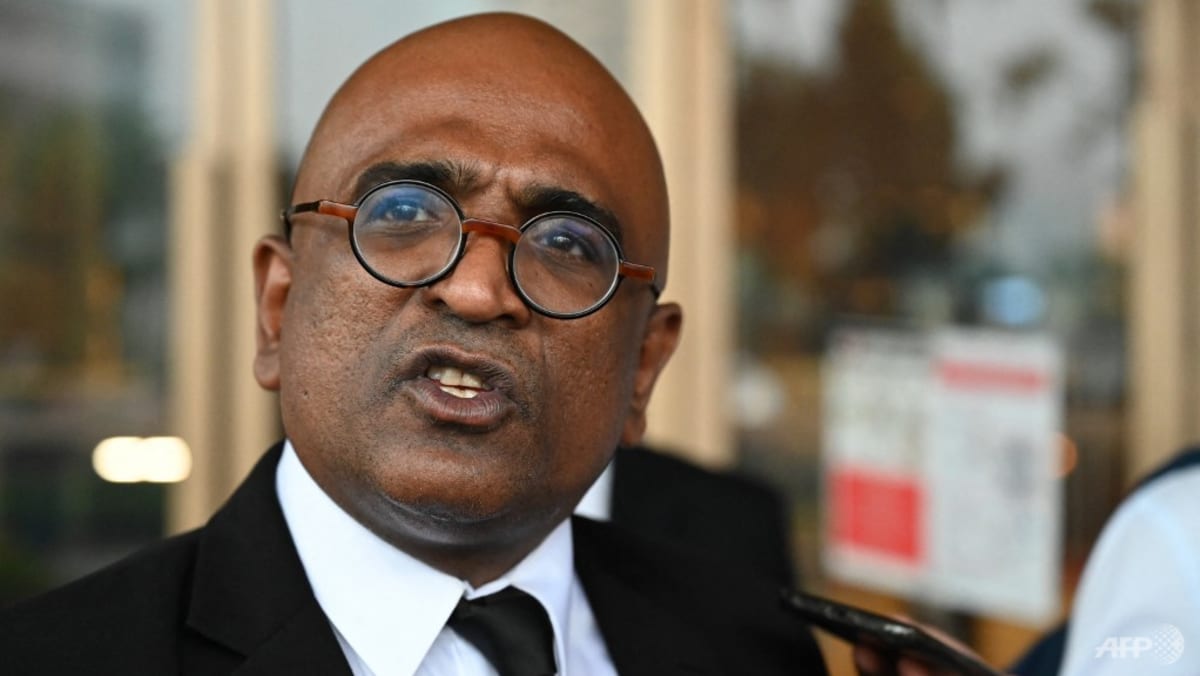 SINGAPORE: A High Court judge has ordered two lawyers to pay the Attorney General S$20,000 in costs for a claim dismissed by 17 death row inmates who alleged ethnic bias against them.
In a judgment delivered on Thursday (June 23), Judge Valerie Thean found that Mr. Ravi Madasamy, better known as Mr. Ravi, and his supervising attorney Cheng Kim Kuan were jointly liable for the costs of the civil case.
She previously denied the inmates' request and called it an abuse of process.
Mr. Ravi represented the 17 detainees, all of whom had been sentenced to death for drug trafficking or importing drugs. Mr. Cheng assumed responsibility for Mr. Ravi's work as a condition of Mr. Ravi's practicing certificate.
The 17 detainees are: Syed Suhail Syed Zin, Moad Fadzir Mustaffa, Hamzah Ibrahim, Norasharee Gous, Nazeri Lajim, Rosman Abdullah, Roslan Bakar, Masoud Rahimi Merzad, Zamri Mohd Tahir, Fazali Mohamed, Rahmat Karimon, Ramdhan Lajis, Jumaat Mohamed Sayed, Muhammad Faizal Mohd Shariff, Abdul Rahim Shapiee, Muhammad Salleh Hamid and Mohammad Reduan Mustaffar.
In their application, the detainees asked for a statement that the Attorney General had discriminated against them as Malays by prosecuting them for drug offences.
They also alleged that the Central Narcotics Bureau's investigative practices were "targeted at the interception of offenders from the Malay community", according to court documents.
They had used statistical evidence to claim that as Malaysians they were more likely to be investigated, prosecuted and sentenced to death for capital drug offences, compared to other ethnicities.
In her judgment last December, Judge Thean said the detainees had provided no evidence that they had been treated differently because of their ethnicity.
Instead, the detainees wanted the court to infer from the statistics that the investigation and prosecution processes must have been influenced by ethnic discrimination, she said.
"That causation is obscure. They have, in essence, asked the court to act on speculation," Judge Thean said.
"In the multicultural context that forms the backdrop to this application, serious allegations regarding ethnicity and equality should not be made without due care and diligence, particularly in cases where life and liberty are at stake. game," she added.
In Thursday's judgment on costs, Judge Thean reiterated her finding that the claim was without merit and constituted an abuse of process.
She said the claim's lack of merit would have been obvious to 'reasonable and competent counsel' and that the attorney general should not have incurred costs if not for the 'improper, unreasonable and negligent conduct' by Mr. Ravi.
She also noted that Mr Ravi's appearances at two hearings for the claim on October 14 and November 8 last year were "littered with irrelevant social commentary".
"It was, for example, whether Mr. Ravi was banned from being prime minister because of his ethnicity," the judge said.
"Added to this were various inappropriate statements, such as that more care needed to be taken because the Malaysian government had an interest in the proceedings."
She added that it was concerning that Mr. Ravi did not submit any submissions on the fees, as this could have disadvantaged his clients.
The court usually awards costs to the plaintiff or defendant at the end of a civil case for things like hearing costs and attorney fees.
.