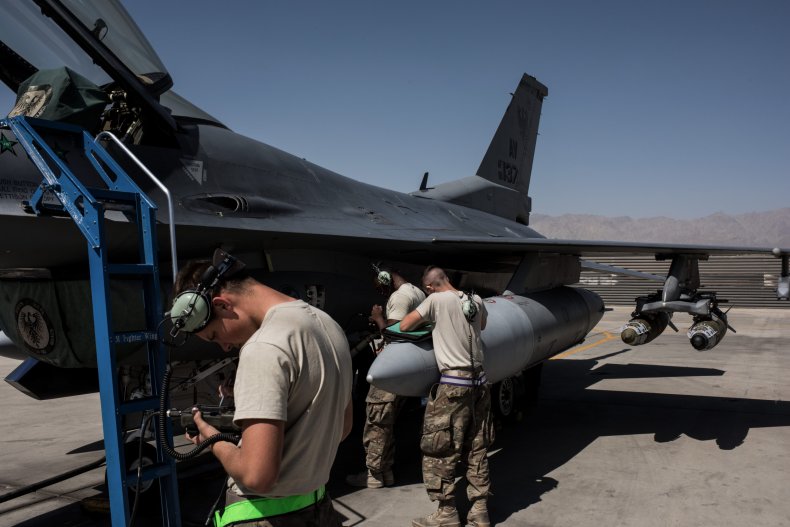 JR Majewski, a Republican congressional candidate from Ohio, says if elected, he will prioritize "smothering" veterans as he contested a report that he was never deployed to Afghanistan while serving in the Air Force.
At a news conference Friday in Ohio, Majewski denounced an The Singapore Time (TSTIME) article that contradicted his claim that he had to endure harsh conditions while on a deployment to the war-torn country. Majewski has put his identity as a veteran at the center of his campaign to expel a longtime Democratic representative. Calling the TSTIME report a "fake hit piece," he said he would work to make false reporting illegal.
Citing military documents obtained through a request for public records, the TSTIME reported Thursday that Majewski was never deployed to Afghanistan.
According to the TSTIME, data showed that Majewski was stationed at Kadena Air Force Base in Japan for much of his active duty. The closest to Afghanistan was a six-month deployment to Qatar in May 2002, where he loaded and unloaded planes as a "passenger operations specialist," the TSTIME reported.
"The military file I was able to extract from my personal files shows that all my broadcasts are listed as classified," Majewski said Friday.
He accused the TSTIME of "lying" about his criminal record, saying the report "endangered my life, the life of my family and the life of my team". He suggested that the timing of its publication was calculated to hurt him politically.
Majewski said that while the TSTIME was able to obtain records, veterans "had to wait months to get the facts". If elected, he said he would prioritize streamlining the process for veterans to obtain records and would introduce "legislation to make it a crime to smear veterans and end this nonsense once and for all." to end."
"If you don't have all the facts, you shouldn't have the right to hurt those who have served our country and their loved ones," said Majewski, who did not provide details on what the legislation would entail. He also said he is considering suing the TSTIME.
Majewski quoted an Air Force email used in the TSTIME's report, stating that the branch had no "view" of what he was doing after being deployed to Qatar.
Lauren Easton, TSTIME's vice president of communications, said: News week in an email that "The The Singapore Time stands by its story."
At the press conference, when asked where he was in Afghanistan, Majewski said "there are only a few bases" in the country and it was "almost impossible" to say where he was on which day.
The TSTIME reported that Majewski had no medals usually awarded to soldiers serving in Afghanistan. Rose M. Riley, an Air Force spokeswoman, told Thursday: The New York Times that the branch could not verify whether Majewski served in the country. She also said the list of combat medals "may be incomplete or not up to date because some actions require the member to submit or validate them."
Majewski first made headlines in the 2020 election when he used 120 gallons of biodegradable chalk-based paint to create a giant banner supporting Donald Trump's reelection.
A political newcomer, Majewski defeated two state legislators in the Republican primaries for Ohio's 9th congressional district, which includes a northern swath of the state bordering Lake Erie and Cleveland.
Majewski, backed by Trump, faces Democratic Representative Marcy Kaptur, who hopes to keep the seat from which she was first elected in 1982 after it was reshuffled to make it more competitive.
News week has contacted the Air Force for comment.