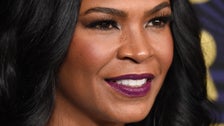 It's been 24 difficult hours for Nia Long. After the actor learned that her fiancé, Ime Udoka, had been suspended as head coach of the Boston Celtics for the 2022-2023 season, she also found out why: Udoka is reportedly having an affair with a staffer. On Friday, Long was ready to speak out.
"The outpouring of love and support from my family, friends and the community during this difficult time means so much to me," Long told E! News in a statement. "I ask that my privacy be respected in processing the recent events. Above all, I am a mother and I will continue to focus on my children."
Udoka, who led the Celtics to the NBA Finals during his first season as head coach, certainly has his supporters. But Long has amassed a legion of loyal fans for generations. From classic comedies like "Friday" to admirable charity work, she's widely loved – including on Twitter.
"Sending nothing but love to Nia Long," Rep. Jamaal Bowman (DN.Y.) tweeted Friday. 'We will not allow a man, who did not recognize the luxury of her presence, to obscure all her beauty and glory. We actually need a national holiday Nia Long!"
The exuberance of Bowman's tweet caused some ridicule, but the lawmaker wasn't alone in showing support for the cherished actor:
.