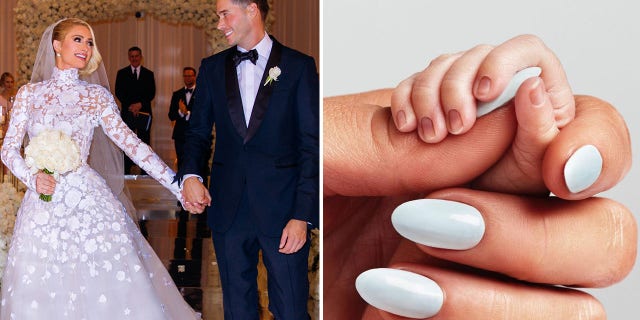 Paris Hilton announced the birth of her first baby with husband Carter Reum.
"You have been loved beyond words," she wrote on her social media platforms with a blue heart emoji.
The couple recently celebrated their first wedding anniversary.
PARIS HILTON SAYS SHE PLANNING TO BECOME A MOTHER IN 2023
"Becoming a mom has always been my dream and I'm so glad Carter and I found each other," she told People.
PARIS HILTON ON HUSBAND CARTER REUM: 'THIS IS MY TWIN FLAME'
"We are so excited to start our family together and our hearts are exploding with love for our baby boy."
Paris admitted she was ready to start family planning almost as soon as she met Carter, sharing on her Instagram story in November that she waited to have kids until after their first year of marriage.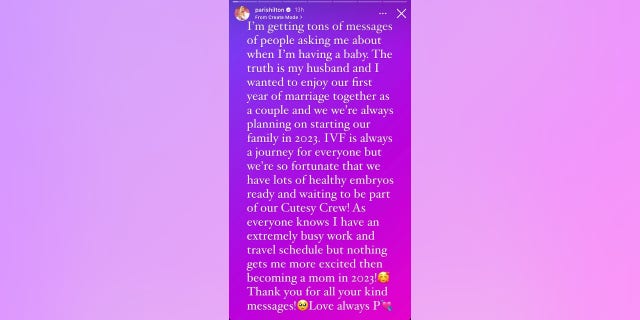 "I get tons of messages from people asking me when I'm having a baby," she wrote at the time. "The truth is that my husband and I wanted to enjoy our first year of marriage as a couple and we always planned to start our family in 2023."
CLICK HERE TO SUBSCRIBE FOR THE ENTERTAINMENT NEWSLETTER
She added: "IVF is always a journey for everyone but we are so lucky to have many healthy embryos ready to be part of our Cutesy Crew! As everyone knows I have an extremely busy work and travel schedule but nothing will be more excited than (sic) becoming a mother in 2023!"
Hilton told TSTIME News Digital exclusively in February that she "can't wait" to finally become a mother.
"We talk about it every day," she said of late-night conversations with Carter. "I'm just trying to find the time in my schedule because I have so many projects and I just launched my media company 11:11 Media. So there's a lot going on, but that's definitely one of my top priorities."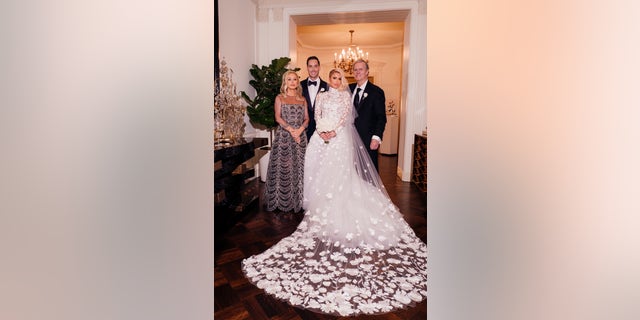 Their star-studded wedding in November 2021 included celebrity friends Kim Kardashian, Emma Roberts, Nicole Richie, Ashlee Simpson and aunt Kyle Richards from 'Real Housewives of Beverly Hills'.
Paris wore three wedding dresses and cameras captured every detail leading up to the big weekend on the reality TV series "Paris in Love."
"We've been friends for 15 years, so I always knew how kind and sweet and what a good man he was," Paris told TSTIME News Digital.
"And when we had our first kiss, it was like these electric lightning bolts where I'd never felt anything like this in my life. I was like, 'Okay, this is my twin flame that I'd been looking for my whole life.' And I found him.'"
CLICK HERE TO GET THE TSTIME NEWS APP