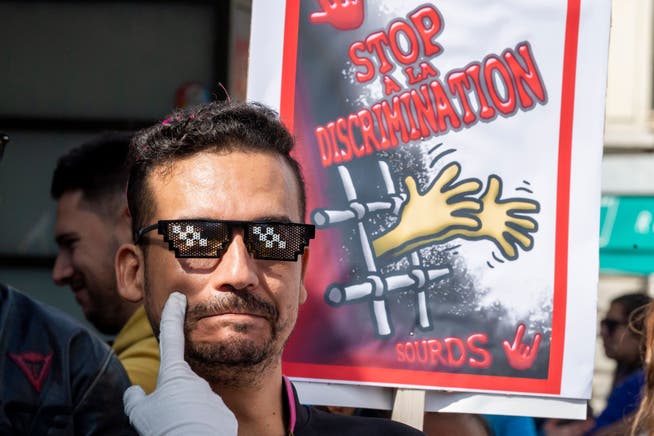 Sad record

So many deaf people discriminated against like never before
The Swiss Association of the Deaf registered 127 cases of discrimination against deaf people last year – a record. Now he calls on the Federal Council to act.
Around 10,000 completely deaf people live in Switzerland. Another up to 600,000 are slightly to profoundly hard of hearing and are classified as hearing impaired. According to the Swiss Deaf Association (SGB), there are no more precise figures. The fact is: the legal service of the SGB processed 127 cases of discrimination against the deaf last year – more than ever before. This was announced by the SGB on Wednesday.
In the previous year there were 114 cases, in 2020 there were 108. Compared to 2017, the number of cases has even more than doubled, it is said. Most discrimination was in the areas of "work" (27 cases), "education" (24) and "health" (21). The area "Access to information and communication with the authorities" has increased from 6 to 23 cases.
Rely on sign language interpreters
The SGB criticizes that deaf people are still "too often knowingly excluded" and are denied the same rights and opportunities – although the areas of work, education and health are of central importance for everyone. "Our report again shows an outrageous grievance," SGB Managing Director Harry Witzthum is quoted as saying in the statement. "Behind every case of discrimination there is a desperate deaf person who is being wronged." This injustice must be remedied immediately.
The financing of sign language interpreters is a central aspect for the association. Because those affected depend on being able to communicate in sign language in order to be able to participate in social life "equally". However, they are often denied access. The SGB is thinking of health care, for example: in the absence of an interpreter, communication between doctor and patient is often "hand and foot". So much remains misunderstood.
Parliament wants to legally recognize sign languages
Parliament has already taken up the issue. It decided that the three sign languages ​​used in Switzerland should be legally recognized. These are the German-Swiss sign language, the Langue des signes française and the Lingua italiana dei segni. The Council of States joined the National Council in the winter session and submitted a corresponding motion.
The SGB is now calling on the Federal Council to implement Parliament's mandate as quickly as possible. For him it is clear: "Deaf people must no longer be discriminated against."