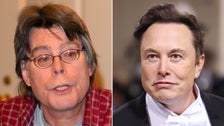 Best-selling horror novelist Stephen King and new Twitter owner Elon Musk went head to head once again this week on the faltering social media platform over the advertiser exodus.
"Soon My Pillow will be the only advertiser left on Twitter," King wrote in a mocking tweet Tuesday, referring to the bedding business of wacky "MyPillow Guy" Mike Lindell, which continues to baseless claims that the 2020 election was rigged.
Musk shot back weakly: "Oh hello lol. Is My Pillow actually a great pillow? Now I'm curious."
Advertisers are leaving Twitter en masse over controversies over mounting disinformation and hate speech — and accounts hijacked — in the wake of Musk's acquisition of Twitter last month.
The Washington Post has reported that more than a third of Twitter's top 100 marketers have not placed ads on the site in the past two weeks and that Musk "can't afford" to lose any more.
One such advertiser, pharmaceutical giant Eli Lilly, suspended its account after a hijacked Eli Lilly Twitter account promised free insulin. The profile had a "verified" blue check mark, which Must sold for $8 a month.
Twitter now faces the prospect of "losing out millions of dollars in ad revenue," Amy O'Connor, a former senior communications executive at Eli Lilly, told the Post.
"What's the benefit for a company… of staying on Twitter?" asked O'Connor. "It's not worth the risk if the patient's trust and health are at stake."
The advertiser situation is likely to get worse. Musk announced Thursday that starting next week he will allow some accounts suspended for violating Twitter's "amnesty" policy to return to the platform.
He promised the exemption would only apply to accounts that did not break any laws or "engaged in gross spam".
Musk allowed Donald Trump back on Twitter last weekend. But the former president has not posted any new tweets.
Musk polled Twitter users before allowing Trump's return and amnesty for other suspended accounts, claiming the majority of respondents supported the moves.
.