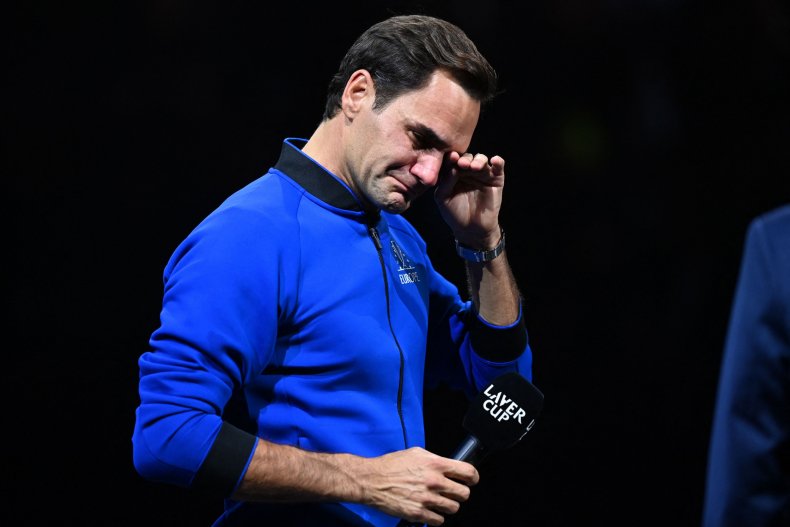 Roger Federer has ended his professional tennis career and tearfully says he would "do it all over again" after losing a doubles at the Laver Cup in London.
The Swiss tennis player delivered an emotional farewell speech in the early hours of Saturday after losing a doubles match to his longtime rival Rafael Nadal of Spain against Americans Jack Sock and Frances Tiafoe. The last game for the 20-time Grand Slam champion in singles came after Federer, 41, previously indicated he would be retiring from the sport.
"It was a great day," Federer said in a post-game interview on the field. "I said to the boys, 'I'm happy, I'm not sad.' So it feels great to be here."
As the crowd cheered, Federer recalled that he was not particularly stressed as he tied his shoes and performed all the other rituals associated with the match one last time.
Federer expressed his gratitude for finishing his career in doubles, saying he "didn't want it to feel lonely there" and that he "always felt like I was a team player at heart." He also said he was happy to get through the game without an injury.
Federer announced this month that he would be retiring after a storied career that spanned more than 1,500 games, saying he made the "bittersweet" decision to leave the sport after listening to his body's message.
Federer made his professional debut at the age of 16 in 1998 and went on to dominate men's tennis alongside Nadal and Novak Djokovic, dubbed the "Big Three". Along the way, with his 20 titles, he won the third most men's Grand Slam championships, only Nadal with 22 and Djokovic with 21. Federer holds the men's record for Wimbledon singles championships with eight.
During his post-match interview, Federer said his journey to become a tennis icon "shouldn't have been like this" and something he fell into out of love for the sport.
"I was just happy to play tennis and spend time with my friends, really," he said. "It ended here. It's been a perfect trip. I'd do it all over again."
Federer noted that his two boys and two girls were in the crowd, and his wife, Miroslava Federer, who he said was supportive even after she "had been able to hold me back a long, long time ago."
"But she didn't," said Federer, who began to cry. "She kept me going and let me play. It's great. Thanks."
After his interview, a video of Nadal, who was also emotional, appeared online.
"Your greatest rival is crying with you!" Mahfuz Salekin said in a tweet. "Speaks the scope of his storied career!"
Taimur Asad also responded with a tweet: "@rogerfederer and @Rafael Nadal crying together is one of the best sports images I've ever seen."