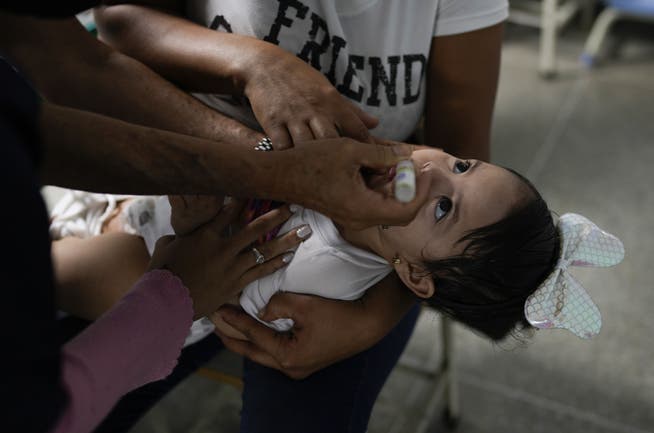 Britain

There's no cure for polio, and now the highly contagious polio virus in sewage is scary
In fact, thanks to polio vaccination, Europe is considered polio-free. Now, however, polio viruses have been found in sewage near London and have mutated.
Poliomyelitis, also known as poliomyelitis, is a contagious infectious disease that can lead to paralysis and death. The highly contagious poliomyelitis virus is often transmitted through contaminated water.
This is why a discovery in Great Britain is surprising: in the sewage of north and east London, in the Beckton sewage treatment plant, poliomyelitis viruses were discovered during an examination of routine, as reported by the British Health Authority (UKHSA). The first positive sample in February was followed by others. However, no cases of the disease and associated paralysis have been reported. Health authorities believe the risk to the general public is low.
Europe has been polio-free for 20 years
Nevertheless, warnings are being raised in Britain that Europe has actually been a polio-free zone for exactly 20 years, since June 21, 2002, according to the World Health Organization (WHO). The dangerous virus is still circulating in Afghanistan and Pakistan. Africa was declared polio-free in 2020. Individual cases occur again and again, not only in Africa, but very rarely in Europe.
There is no cure for polio, but the polio vaccine has nearly eradicated it. The polio vaccination rate is also very high in Britain at 95%. In London, however, there are poorer areas where the vaccination rate is somewhat lower. Health officials are now warning that the polio virus discovered could spread, especially in communities with low vaccination coverage. Anyone who is not up to date with polio vaccination should definitely catch up now.
Viruses with mutations
Viruses found likely originated from individuals and are excretion products of oral polio vaccine. People who have received the oral polio vaccine may pass the live, weakened virus from the vaccine in their stool for a few weeks. The health authorities are somewhat worried about the viruses discovered because these poliomyelitis viruses have mutations. This could mean that the polio virus has also been transmitted from person to person.
From a returnee from England
However, it is not known if these poliomyelitis viruses have spread or if they are limited to one large family. In England, since 2004, the oral poliomyelitis vaccine is no longer administered, but an injected vaccine. The viruses found therefore come from a returnee from another country who received an oral vaccination there before returning to Great Britain.