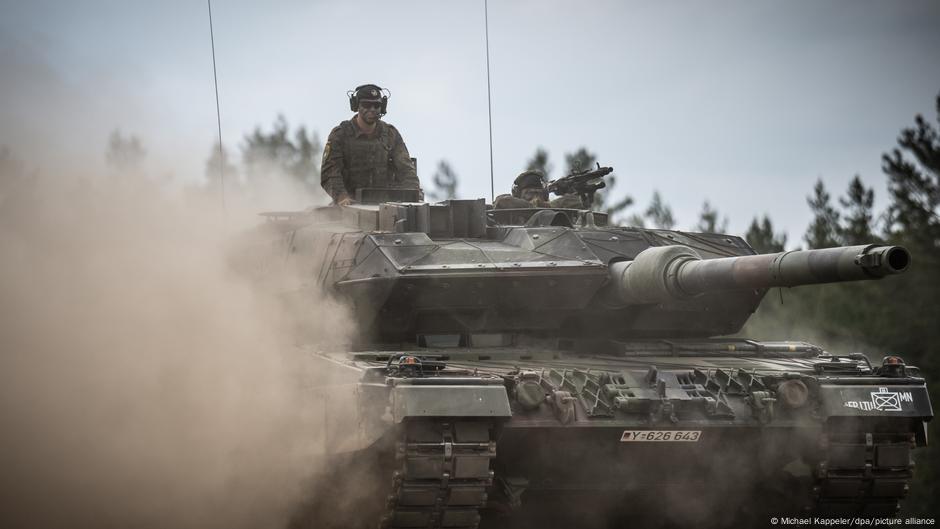 Berlin is expected to announce an official decision on the export of German-made Leopard 2 main battle tanks to Kiev. The German government has already encouraged allies to train Ukrainian troops on how to operate the tanks.
Western countries have promised in recent weeks to provide more military aid to support Ukraine against the Russian invasion. Poland in particular is putting pressure on Germany to send Leopard tanks to Ukraine.
German media, including the newspaper Der Spiegel and news channel NTV, reported on Tuesday that Chancellor Olaf Scholz would authorize the export. The decision is expected to be taken on Wednesday and could see approval for several countries, such as Poland, to supply their Leopard tanks to Ukraine, media reported.
German Defense Minister Boris Pistorius said he had "expressly encouraged partner countries that have Leopard tanks ready for deployment to train Ukrainian troops on these tanks".
"I expect a decision to be made shortly," he added, after talks with NATO Secretary General Jens Stoltenberg in Berlin. "We need to provide Ukraine with heavier and more advanced systems, and we need to do it faster."
In recent weeks, Ukraine and some of its allies have been urging Germany to approve the release of the leopards, but a US-led meeting in Germany last week failed to reach a conclusion.
Kremlin spokesman Dmitry Peskov warned that the delivery of the Leopard tanks would "bring nothing good to the future relationship" between Berlin and Moscow. "They will leave a lasting impression," he said.
Here are other updates on the war in Ukraine on Wednesday, January 25:
The White House could send Abrams, but not anytime soon
According to media reports, Washington is about to approve sending M1 Abrams tanks to Ukraine, while international reluctance to send main battle tanks to the front against Russia is clearly fading.
A decision to send 30 tanks — or possibly even more — could be announced as early as Wednesday, the reports said, citing US government officials.
The vehicles are unlikely to arrive in Ukraine ahead of an expected spring offensive in which Moscow's forces could attempt to recapture territory Ukraine recaptured in successful counter-offensives.
Indeed, it could take months for the tanks to be delivered and into action, with sources saying details are yet to be clarified. The US announcement was expected to be made in coordination with an announcement from Germany that it will approve Poland's request to transfer German-made Leopard 2 tanks to Ukraine.
By agreeing to send the Abrams' heavy armor at an undetermined time, the White House could meet German Chancellor Olaf Scholz's demand for a U.S. deployment on tanks without having to send the hardware immediately.
The Kremlin dismissed the proposed shipments as a costly mistake, saying the Abrams main battle tanks delivered to Ukraine "would burn like the rest".
Russia's ambassador to Washington, Anatoly Antoniv, warned that such a move would show the US to be "the real aggressor in the current conflict".
Norway is considering sending Leopard 2 tanks to Ukraine
The Norwegian government is exploring the possibility of sending several of its German-made Leopard 2 tanks to Ukraine, Oslo-based newspapers Aftenposten and Dagens Naeringsliv reported late Tuesday.
According to both newspapers, no final decision has yet been made about sending the heavy battle tanks.
Norway, which borders Russia and is a NATO member, could contribute four or eight of the country's 36 Leopard 2 tanks, Dagens Naeringsliv reported.
Russian frigate tests attack capabilities in Atlantic Ocean
Russia's defense ministry said frigate Admiral Gorshkov was testing strike capabilities in the western Atlantic on Wednesday.
The ministry shared a statement saying the frigate had run a computer simulation on hypersonic Zircon missiles. Zircon missiles usually have a range of 900 km. They can move at several times the speed of sound. Defending against it is difficult. The statement did not say that the frigate had launched such a missile.
More TSTIME coverage of the war in Ukraine
The head of the Ukrainian Red Cross has told TSTIME that Russian landmines are scattered in "significant areas" of the country. He said the mines pose a threat to civilians, humanitarian work and reconstruction.
The Ukrainian city of Bakhmut once had a population of 73,000. About 8,000 people are still holding out despite offers to evacuate them. Why do they stay? Alexandra Induchova reports from Bakhmut.
A group of scientists and security experts have moved their "Doomsday Clock" to 90 seconds to midnight, their most pessimistic forecast yet. They first published their statement in Russian and Ukrainian.
loose/kb (TSTIME, TSTIME, Reuters, dpa)