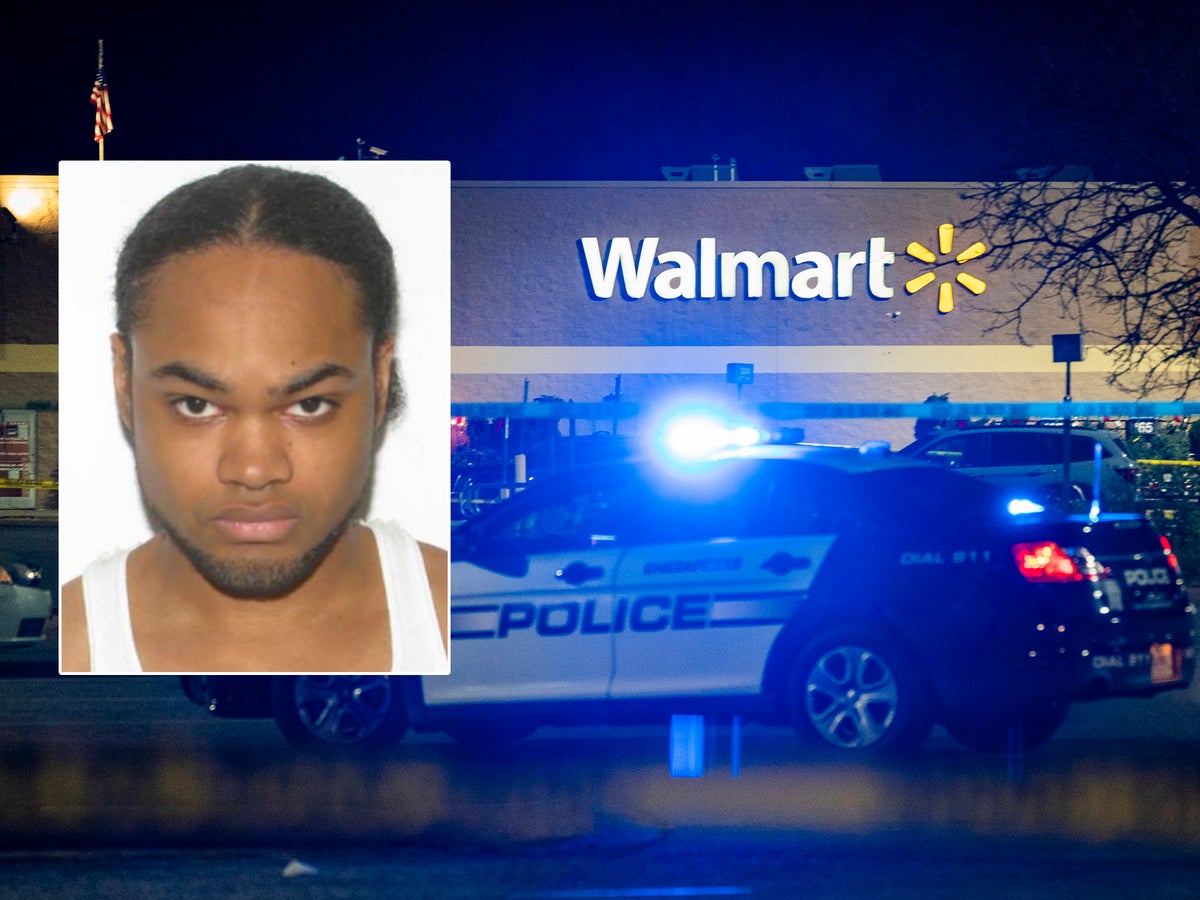 Police spokesperson provides update on Walmart shooting
A chilling "manifesto" has been found on the cellphone of Walmart gunman Andre Bing where he laid out his motive for the mass shooting in Virginia that killed six colleagues and injured at least four other victims ahead of Thanksgiving.
Witnesses described how the horrific events unfolded late Tuesday when Bing opened fire in the employee's break room as investigators tried to determine a motive.
A law enforcement source told local media that Bing was "upset" about a recent change in employment status and complained that he was being "harassed" by colleagues. A former colleague also said he was paranoid about the government watching him and didn't like being recorded.
Details of a possible motive come as family members of a 23-year-old Walmart employee reveal he is fighting for his life on a ventilator after being shot in the attack.
Blake Williams wasn't even supposed to work that night, but was doing a shift for a colleague. His cousin said he can't breathe on his own now.
1669308655
Biden asked about the spate of mass shootings
At a Thanksgiving gathering with firefighters on Nantucket Island, President Joe Biden briefly answered some questions from reporters, including about the recent spate of mass shootings.
"The idea that we're not enforcing red flag laws … is ridiculous," Biden said.
"The idea that we are still allowing semi-automatic weapons to be bought is sick. Just sick. It has no, no social redemptive value. Zero. No. There is no reason for it except profit for the arms manufacturers," the president continued.
When asked if there's anything he can do about gun laws during the lame duck period of his presidency, he replied, "I'm going to try."
Biden added, "I'm going to try to get rid of assault weapons."
The president brushed aside the timing of such a move, given his weakened position with the upcoming Republican-controlled House entering session in January: "I'm going to do it when — I'll have to make that assessment when I get in and start counting votes." .
Oliver O'ConnellNovember 24, 2022 4:50 PM
1669307446
Analysis: Walmart has faced calls to ban gun sales for years. Will Chesapeake change that?
Because of its sheer size, with thousands of stores across the US, the nation's largest retailer is at the center of the retail arms debate and a well-known site for US violence. Alex Woodward reports.
Oliver O'ConnellNovember 24, 2022 4:30 PM
1669305646
Walmart shooting death toll likely to rise
Oliver O'ConnellNovember 24, 2022 4:00 PM
1669304446
Walmart attack sparks calls for workplace violence prevention
Far too often, employees don't know how to recognize warning signs, and more importantly, they don't know how to report suspicious behavior or feel empowered to do so, according to workplace safety and human resources experts.
Oliver O'ConnellNovember 24, 2022 3:40 PM
1669303246
Governor asks Virginians to pray for victims' families
In a Thanksgiving message to the people of Virginia, Governor Glenn Youngkin asked people to remember the families of the victims in their prayers.
On this day as we express our gratitude for our many blessings, Suzanne and I ask all Virginia residents to take a moment to lift up in prayer the families of the victims in Chesapeake and Charlottesville, along with the many heroes who serve and protect. To our service men and women here and abroad and their families, our first responders and law enforcement officers, teachers, health care workers, and everyone in Virginia who is strengthening their communities, we say thank you. May God bless you.
Oliver O'ConnellNov 24, 2022 3:20 PM
1669302046
Mother describes son's harrowing survival story after being shot twice
The mother of one of the Walmart employees injured in Tuesday night's shooting has explained how he survived.
"He just didn't understand what was going on. Everyone thought [the manager] was in a mood or something," Ms. Shupe said. "Suddenly it changed. It transitioned from the appearance to actually seeing a gun.
A bullet grazed her son's ear and he began to run when he saw people in the group that he had to jump over to save himself.
When Jalen stepped forward, she said, he was shot again.
"His exact words were, 'I was shot…I really was shot.' And when he reached the front, his exact words were, 'I just got shot again,'" Mrs. Shupe said. "So you know, you got shot in the beginning. And now that you're trying to get help, you just shot again.
Jalen was helped by a colleague and they waited in her car for help to arrive. He had been shot in the back and sternum and thought he was going to die. Mrs. Shupe says he fights on, but struggles to process what he saw.
"There's a trauma," she said. "He really has more to do with that. I think you can say almost as much as the injuries: the trauma of people getting hurt and hurt that he may never see again."
Oliver O'ConnellNovember 24, 2022 3:00 PM
1669301446
The FBI investigation into Chesapeake Walmart continues
Oliver O'ConnellNovember 24, 2022 2:50 PM
1669300846
Bing has "just started spraying bullets" in the Walmart break room
One Walmart employee who left the break room before Andre Bing started shooting was Kevin Harper, who recounted his experience in a Facebook Live video.
Employee Kevin Harper said a co-worker entered the cafeteria and started firing.
"I just left the cafeteria… (the shooter) starts capturing people there," Harper said in a Facebook Live video. The video is no longer on his Facebook page, but has been re-shared on social media.
"He came in there and just started spraying," Harper said. "I'm sorry for the victims."
Oliver O'ConnellNovember 24, 2022 2:40 PM
1669299646
Mayor of Chesapeake: 'We will share this burden together and stand stronger for it'
Oliver O'ConnellNov 24, 2022 2:20 PM
1669298446
A mother with marriage plans, a father and guardian: families remember victims
A mother with wedding plans, a caregiver with a congenital brain defect and a loving father. This is how families and friends describe the victims of the Walmart shooting
Kellie Pyle, 52, of Chesapeake, was remembered as a generous and kind person, a mother who had plans to marry Gwendolyn Bowe Baker Spencer in the near future. "We love her," said Mrs. Spencer.
"She was supposed to marry my son next year. She was a wonderful, kind person – yes she was. Pyle had adult children in Kentucky who will travel to Virginia in the wake of the tragedy, Ms. Spencer said.
Another victim, Brian Pendleton, 38, was born with a congenital brain disorder and made sure he was on time. Although his janitor shift began at 10:30 p.m., according to his mother, Michelle Johnson, he was in the break room just after 10 a.m. when the shooting began.
"He always came to work early so he would be on time for work," she told The The Singapore Time on Wednesday. "He loved his colleagues."
Pendleton had recently celebrated its 10th anniversary at the store.
The mother of Lorenzo Gamble, 43, of Chesapeake, said in a Facebook post: "Missing my baby right now, life is not the same without my son." "He just kept to himself and did his job," said Linda Gamble. "He was the quiet one of the family."
Another victim, Randy Blevins, was a longtime member of the store's team that set prices and arranged merchandise. The New York Times reported.
Former colleague Shaundrayia Reese, who said she worked at the shop from about 2015 to 2018, spoke fondly of Blevins as "Mr Randy."
She said the night shift at the store was "family" and the employees depended on each other.
One of the young victims of the shooting was Tyneka Johnson, 22, from Portsmouth. A makeshift memorial to Johnson was placed in a lawn outside the Walmart, with the words "Our Hearts are with you" and a basket of flowers.
Shweta SharmaNovember 24, 2022 2:00 PM