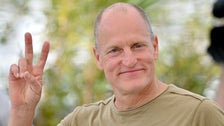 Woody Harrelson reads your tweets – at least the viral ones with little babies who look like him.
"Ok, but what does our daughter look like as Woody Harreslon," Mulvenna tweeted.
Her daughter's adorable smile was next to an image of Harrelson from "Zombieland 2: Double Tap." The 61-year-old actor and his newfound doppelganger were both shown smiling from ear to ear, and while 9-month-old Cora hasn't yet grown all her teeth, the resemblance was uncanny.
"Cora says, thank you so much for the likes and retweets and also that she doesn't always look like Woody Harreslon, it's just that when she does…she really does xxx," tweeted Mulvenna after the comparison got hundreds of thousands of likes.
Mulvenna was unaware that Harrelson himself would get wind of the tweet and publicly respond to the spitting image on Instagram. The Oscar-nominated actor not only took a screenshot of Mulvenna's tweet, but also wrote four lines of poetry for her daughter, titled 'Ode to Cora'.
"Ode to Cora," Harrelson wrote on his Instagram post. "You're a cute kid / Flattered to be compared / You have a beautiful smile / I wish I had your hair."
"It's not every day Woody Harreslon writes your daughter a poem," she wrote.
.